Video
November 22, 2013
The image of KASSATSU-JIZAI (Part 2)
"KASSATSU-JIZAI Permeation Force" was posted to You Tube. A sequel continues to be posted.
▼The image of KASSATSU-JIZAI (Part 2)


September 24, 2013
The image of 11th Chito-Ryu Soke Cup.
The image of 11th Chito-Ryu Soke Cup performed in Hong Kong on August 15.16 was contributed to YouTube.

▼ The image of 11th Chito-Ryu Soke Cup performed in Hong Kong


August 27, 2013
The digest image of new DVD
We contributed the situation of filming of new DVD released on August 26 to You Tube.
▼New DVD "空手トレ!" digest image
http://youtu.be/pDF36bRveTA


August 13, 2013
The realities of KASSATSU-JIZAI became an image.
"It becomes KASSATSU-JIZAI Part 1 Hichu and Tentotsu" was contributed to You Tube. A sequel continues to be made from the schedule of series-izing.
▼It becomes KASSATSU-JIZAI Part 1 Hichu and Tentotsu


The image of 17th Chito-Ryu East Japan karate-do championship was contributed to You Tube.
The image of 17th Chito-Ryu East Japan karate-do championship held in the Togoshi gymnasium of Shinagawa-ku on June 30 was contributed to You Tube.

▼The image of 17th Chito-Ryu East Japan karate-do championship



July 23, 2013
The talk event of Nakayama supreme advisor
Takatsugu Nakayama supreme advisor performed the public talk in SHOSEN (bookstore) of Tokyo (Jinbo-cho) on Tue., May 28, 2013.
▼It is not only a diaphragm !About abdominal breathing of a martial art ?
(Your click of a picture will reproduce an image.)


▼About the shape of the correct pelvis?



August 12, 2012
13th Chito-Ryu all Japan karate-do championship was held in Kumamoto Mashiki-cho synthesis gymnasium on Sun., August 12, 2012.
It was heat of 35 ℃ near the hall on the day. But KUMITE rose more than the heat of summer.
▼A momentary attack ! JODAN-HAITO-UCHI(Your click of a picture will reproduce an image.)


▼Middle mawashi-keri which beat the opponent(Your click of a picture will reproduce an image.)


▼Explosion! IPPON(Your click of a picture will reproduce an image.)



---
RADIO
The "body balance karate" which attracts attention as martial art system exercise was introduced on Friday, June 8, 2012 at 2:10 p.m. within the program of "PARADISO" of J-WAVE (FM office frequency of 81.3 MHz).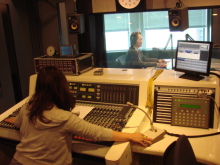 It is the sound broadcast in the program.

For Windows
Windows Media Audio(.WMA file)2.25MB

For i-pad,i-phone,Android,etc
AAS Audio(.m4a file)2.19MB

Mac user needs to download RealPlayer.




---
You Tube
下記の動画は「You Tube」に投稿されている動画を便宜的に共有したものです。
快整体術研究所関連の動画です。
「三竹占い」(テレビ朝日) 最初の出演の回の映像です。
http://youtu.be/6fZQfZcojc8
簡単な調整で足の長さが揃って、お腹の調整で座るのが楽になり、全身ポカポカ。少ない調整で効果が出る快整体術の醍醐味です。


「三竹占い」(テレビ朝日) ツボひとつで前屈!!
http://youtu.be/pGPoOk5RYPk
たった一穴で、インリンさんが前屈で手が床まで届くようになりました。


「三竹占い」(テレビ朝日) ツボが膀胱に作用!!
http://youtu.be/TrBLd2KCID4
1日に2回しかトイレに行かなった水野裕子さんが、施術で「トイレに行きたい」と収録をストップさせた回です。

---
---